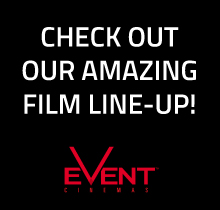 Overview of Event Cinemas
About Us
Impress your clients or reward and motivate your team with an exclusive movie event! You can host your next event in a unique and dynamic venue tailored to your needs and choose from the luxury of Gold Class, the maximum impact of Vmax or one of our traditional auditoriums. Set Bar & Cafe and our dedicated function rooms are also available for events.
Why not combine a presentation or meeting with a private movie screening? Bring your laptop and connect to our state-of-the-art digital projectors and put your message on the big screen for greater impact. Take advantage of our professional catering, state-of-the-art technology, live video and satellite links with full technical support.
Gold Class is New Zealand's ultimate movie-going experience. Each auditorium boasts just 30-40 luxurious electronic recliners, crisp digital surround sound and has access to a private lounge and bar with a stunning menu, cocktail and wine list. Waiter service is available before, after and during the event, direct to your seat. Gold Class is your unique and impressive solution to corporate entertaining, whether it be for a presentation, workshop, meeting or your own exclusive movie night.